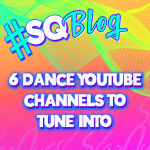 In this digital age, more dancers gain recognition from social media rather than television! For those looking to start a professional career in dance or are just searching for some inspiration for their own moves, here are a few YouTubers to tune into who are sure to give you your dancing fix daily!
Despite having worked with some of the industry's most prestigious professionals, Kyle Hanagami found most of his success through his dedicated subscribers on YouTube! Hanagami posts choreography to today's latest and greatest hits. He even introduces the world to some of the most talented dancers in the industry who are just starting to break into stardom! Hanagami's choreography is joyful and casual and leaves viewers with a constant smile plastered on their faces. A strong media presence is what gets Hanagami's master class schedule soaring as his 3 million subscribers continuously share his intoxicating in-studio and on-screen videos.
Looking for a place to share your own work on the social sphere? This is where you want to wind up! This compilation channel takes videos of the latest choreographers to hit the dance scene and established professionals in the industry alike and shares their work with the channel's 2 million member audience! The channel makes it easy to find your favorite professionals or new finds by separating its videos into a collection of playlists categorized by choreographer, style, show, and contest! Not sure what you're in the mood for? Simply browse and something on this channel will certainly spark your interest!
Many little girls dream of one day taking the stage at Radio City as a Rockette. If you're looking to see if you have what it takes to join this prestigious group, or just want more insight into the lives of some of the great professional dancers in this industry, check out the Rockettes' channel! With behind the scenes clips of the dancers' intense training, auditions, and rehearsals on one of the most famous stages, this channel is sure to provide insight and entertainment for those looking to make a big name for themselves in the world of dance!
Sometimes seeking advice from an outsider's perspective is all it takes to get your motivation back up and running and your feet focusing back on the fancy footwork! That's what Claudia Dean's channel is all about. Dean provides an outlet for those looking to hone in on their skills while gaining a deeper understanding of the ins and outs of ballet. As a former professional ballet dancer with The Royal Ballet, Dean certainly knows what it takes and the right ways to coach to ensure success whether at a beginner level or a professional level. Her channel is perfect for any dancer looking for a new opinion on the classic tips and tricks of ballet.
There's no age requirement to subscribe to this non-profit's channel! Dancers Over 40 is dedicated to showing appreciation for the lives and legacies of dancers across the globe who have made a substantial impact on the industry and the world of arts as a whole. For those more interested in the background and history of dance, the interviews and panel discussions emphasized on this channel are sure to get your mind pumping while driving your body to move as well!
If you're looking for entertainment across the board, you have to subscribe to Tate McRae! This 15-year-old has been dancing her whole life, but that's only one of her many talents! Her channel showcases her passion for the arts as she posts her choreography, songwriting, and singing for the world to see. Her 1-million subscribers know her to be a complete superstar as well as a force to be reckoned with on the dancefloor. Looking for some inspiration, check her out!
________________________________________________________
Casey Eggers is a writer for StarQuest. She loves coffee, music, and running long distance.