Dance Teachers: Holding Your Team Accountable to Their Goals
April 27th, 2017 by Roy Patterson
Setting measurable goals is one of the best ways to grow as a dancer. But as the season progresses, it can be easy to lose sight of the goals you set your sights on in September. In this month's Judges' Corner – we asked Jenn Haws, one of our StarQuest Judges, how, when teaching, they hold their dancers accountable to achieving their goals in the studio.
---
What techniques do you use to hold your dancers accountable to their goals set at the beginning of the dance year?
I have found that in order to achieve your goals it is important to let others know what your aspirations (goals) are. In my classes I like to use the buddy or group system. For my dancers, we usually start the process during the summer. We spend time talking about what our goals are at the moment. In doing this we come up with a range of goals. We have BIG goals like making it into a specific summer intensive or ballet
company and then we have smaller goals like getting their splits or perfecting a quad. Once we have established these I break the dancers up into buddies or small groups of similar 'smaller' goals. In doing this they are being held accountable not only to themselves but to their fellow dancers. The buddy or group provides not only the drive to achieve the goal but also a support system for the times they get frustrated or lazy with achieving their goal. I find better results when dancers have another dancer that can inspire and
motivate them beside myself. It also gives them the opportunity to teach and inspire others. On top of this technique I make sure to include all goals in my syllabus so I can monitor the progress of each dancer. When that moment of achievement hits, I make sure that all dancers are involved in celebrating. No matter how small it may seem to others – it is a big deal to the individual dancer. I make sure that hard work is always rewarded.
– Jenn Haws 
---
Post-Blog Workshop
Have each dancer make a list of the dance goals she set out to achieve earlier this season. Have them check in on each goal to see where they have progressed, and where there is still room for growth.
Encourage each dancer to sit down with a teammate, or her parents to lay out a plan to help her accomplish their goals that remain unconquered!
---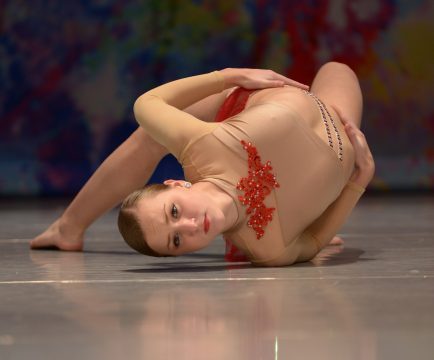 Jenn Haws has been a teacher and choreographer for over 20 years specializing in Jazz and Musical Theatre at D.D.'s Dance Studio (Rialto, CA), Gandy Dance Studio (Broomfield, CO), The Brooklyn Dance Centers (Brooklyn, NY), Dance Discovery (Aurora, CO), Longmont Dance Theater (Longmont, CO), and Ballet Noveau (Broomfield, CO). She currently teaches at Littleton Ballet Academy in Littleton, CO and choreographs for several high school theater programs. Jenn has judged for StarQuest, Dreamstar, DanceUSA, Onstage America, and several state dance and pom championship competitions.

---
Judges' Corner is a monthly feature on the StarBlog. Have a question you'd like our judges to answer? Email it to concierge@starquestdance.com and you could see it answered in a future Judges' Corner blog!

Mariel Pauline Rosen is the StarQuest social media concierge. She likes shiny things and believes in your sparkle!