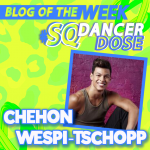 You may recognize him as the Season 9 winner of So You Think You Can Dance. But Chehon Wespi-Tschopp has come a long way since his big win on the FOX Stage 6 years ago. One of the first competitive ballet dancers on the show, Chehon's Broadway and ballet roots led him to his champion title and into America's hearts for years to come.
Ballet Blood
Born in Chicago, IL, Chehon spent most of his young life abroad in Australia and Switzerland. He moved to London at 14-years-old after being offered a position at The Royal Ballet School in London. Having only begun his dancing career a year earlier, Chehon found himself becoming the recipient of a variety of prestigious awards.
To top it all off, he won the Grand Prix at the American Dance Competition. Following his immediate success and graduation from The Royal Ballet School, Chehon found himself uprooted yet again as he made the trek to Los Angeles to perform with the Los Angeles Ballet.
Broadway, Ballet, & The Big Screen
In early 2011, Chehon made his Broadway Debut with established dancer Twyla Tharp in her award-winning Broadway show, "Come Fly Away". Joining on as the youngest performer and lead dancer, Chehon quickly made a name for himself as a strong dancer. Following his success on Broadway, Chehon took a step away from the Broadway stage as he auditioned for Season 9 of So You Think You Can Dance!
Chehon credits his accomplished audition to his ability and willingness to grow as an artist outside the realm of ballet. His determination drove him to to perform some of the season's most memorable performances. He also achieved the highest honor by winning the whole competition. Upon his victory, he joined SYTYCD Top 10 National Tour. He also appeared on a variety of television programs praising his performance. Accompanying his television presence, Chehon earned himself a starring role in feature film "Dancin' It's On!" alongside Season 6 SYTYCD winner Russel Ferguson. Fellow SYTYCD alum Witney Carson played Chehon's romantic interest. Their characters were two young teens with a passion for dance and love for each other. The film went on to win three awards at the 2015 WideScreen Film & Music Video Festival for "Best Director" and "Best Music Score".
A Strong Force
Following his breakout on the big screen, Chehon once again returned to his dancing roots by building his own brand called "I Am Force". His company initially launched in November of 2013. Originally, Chehon offered original choreography for on screen and stage performances. He also offered mentoring and guidance in the realms of dance photography and fashion. Chehon's goal is to allow artists an outlet to connect with each other and build a community. The company holds events where aspiring artists can work alongside some of Los Angeles' top working professionals. They can participate in choreography classes, photo sessions & meet and greets with various established dancers. Chehon now chooses to share his passion with young dancers eager to find their place in the world of arts.
________________________________________________
Do you know a spectacular dancer that we should showcase?
Email wow@starquestdance.comthe dancer's name and why you think they should be featured!
________________________________________________
Casey Eggers is a writer for StarQuest. She loves coffee, music, and running long distance.