#DancerDose: The Modern Day Ballerina – Ingrid Silva
August 10th, 2018 by Richie Kormos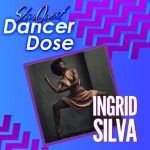 For so long, ballerinas had just one look. But today's ballerinas are daring to be unique, different and most of all, themselves. This week's #DancerDose is not afraid to be herself, Afro and all. Ingrid Silva represents the modern-day ballerina.
Early Life
Ingrid Silva was born on November 24, 1988 in Rio de Janeiro, Brazil. She was introduced to ballet at 8 years old at Dancando Para Nao Dancar.
By 13 years old, she committed herself to studying the art form of dance, so she quit swimming and other extracurricular activities. Her gift of dance was nurtured at the prestigious Teatro Municipal and working with Brazilian contemporary dancers Deborah Colker and Pedro Pederneiras. Encouraged by her teachers, Ingrid sent in a video audition of her dancing for The Dance Theater of Harlem. Fortunately, she was accepted and she traveled to New York City to participate in their summer intensive.
Dance Career
She excelled in the intensive and was asked by the founder of The Dance Theater of Harlem, Arthur Mitchell, to be part of the company. In 2008, Ingrid moved to New York City at 19 years old and spoke no English. Ten years later, Ingrid has grown tremendously not only as a dancer but as a person, too. She has been featured as the Sugar Plum Fairy in the Brooklyn Nutcracker in 2015 and Swan Lake's Black Swan in 2017. Not only is she known on-stage, but she has a strong career off-stage as well. She has represented brands such as TNT Energy Drink, ACTIVA yogurt, and Capezio. Although she has more experiences with contemporary works like Donald Byrd's Contested Space and Dianne McIntyre's Change, in the future she hopes to take on more classical roles.
Her Life Today
Ingrid Silva attributes her success to her down-to-earth persona and presence on social media.  She has 80.1K followers and tries her best to stay connected. She enjoys her days off spending time with her husband, hiking with her dog, watching movies, and cooking Brazilian food.  Her future goals include pursuing a psychology degree to help counsel dancers. In 2017, she co-founded EmpowHer NY with Helya Mohammadian. EmpowHer is a platform that encourages women to use their gifts to change the world as well as allow women to share their own stories. Ingrid Silva's story proves that with hard work and dedication, one is able to achieve their dreams and transcends barriers.
_________________________________________________
Do you know a spectacular dancer that we should showcase?
Email wow@starquestdance.comthe dancer's name and why you think they should be featured!
________________________________________________________
Phaedra McDowell is a writer for StarQuest. She loves to celebrate others, serve her community through the arts, and encourage young people to dream without limits.