This 18-year-old-dancer got her start at the spotlight by posting her own choreography on Instagram! Competitive dancer, Lucy Vallely, is dedicated to breaking boundaries and taking risks as she begins to make a name for herself in the dance industry.
Takes After Her Sister
Vallely was born on September 16, 2001 in California. She was first introduced to dance by her older sister Emily at the age of 2 when she visited her dance class. After sitting on the sidelines for some of her sister's classes, Vallely was ultimately enrolled in as well. She began learning the art of ballet, jazz, tap and hip-hop and danced recreationally until age 6.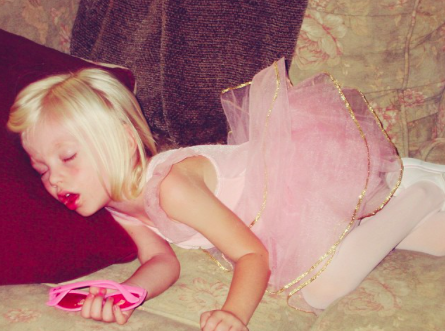 Once she began entering competitions, Vallely became more interested in other aspects of the industry and wished to pursue the art as a full-time endeavor. At age 11, Vallely was introduced to events like Showstopper and Nuvo and decided to take her skills to the next level while switching studios and putting in more time and work than ever before.
From The Stage To Instagram
By age 12, Vallely began spending every ounce of free time at a competition or training for the next one. She began getting featured in conventions where she was able to showcase her own abilities while learning from other dancers her age or professionals she looked up to. With inspiration surrounding her, Vallely began to fine-tune and create her own choreography that she would showcase at competitions to impress judges and dancers alike. As a young teen, Vallely was able to assist big name choreographers while continuing to grow as a choreographer herself. She began recording her own work on Instagram and picked up a large amount of traction from audiences both inside and outside the dance community. With strong support by her side, Vallely continued to work through the competition circuit while impressing and influencing those around her with her own moves.
A Storyteller
Vallely's most admired talent is her ability to seamlessly transition from style to style and turn it into a cohesive tale that evokes emotion and stuns audiences. From hip-hop to contemporary, Vallely presents herself as an enigma to be admired and a star that is ready to shine for all of those willing to look her way. Her success has been defined by her immense following on social media as fans continue to praise her stage presence and performance on the dance floor and on the social platform itself!
Further solidifying herself as a force to be reckoned with, Vallely was crowned Best Dancer at the Dance Awards in 2015 and 2018. Despite having worked with some seriously successful choreographers, Vallely continues to collaborate with big and small name artists in the industry as a means of exploring new opportunities while finding what works best for what styles and how to tie them all together into one strong story that all audiences can relate to. Vallely often collaborates with Easton Payne, a former competitive dancer and choreographer who has his own strong following. The two work together to shed light on more unconventional styles of dance while performing to varying genres of music as a means of creating a new and visceral experience for audiences. The two work together to push limits and destroy boundaries while creating their own style of dance that will impact the industry in its own way.
What's In Store
As an 18-year-old with big shoes she is still craving to fill, Vallely has decided to continue dancing full time while exploring new outlets and opportunities to feed her creative hunger. She is currently finishing her final year at Westside Dance Project while spending her weekends at different conventions and competitions hoping to meet dancers who can inspire her to choreograph new routines and bring attention to new issues and emotions through dance. Vallely hopes to travel the world to consume as much knowledge of the art as possible while diving into new cultures and creating a whole new form of art that only she can ever truly understand. Through dance and choreography, Vallely has already begun making her mark on the world and in the future that mark will only get bigger and shine brighter as she continues to succeed.
______________________________________________
Do you know a spectacular dancer that we should showcase?
Email social@starquestdance.com the dancer's name and why you think they should be featured!
_______________________________________________
Elizabeth Radabaugh is the StarQuest Social Media Production Assistant. She loves everything Disney and delicious.