With high energy, a sense of grace, and impeccable speed, Maria Tallchief is known as being one of the most prominent figures of ballet in United States history.
A Quick Name For Herself
Born on January 24th, 1925 on an Osage Indian Reservation in Oklahoma, Maria Tallchief began pursuing her career at a young age. Her and her sister Marjorie were immediately invested in the world of dance and spent most of their childhood training to become professionals in the art form. During their teenage years, the siblings studied with Bronislava Nijnskae and David Lichine who were on course to make a name for themselves on the professional circuit.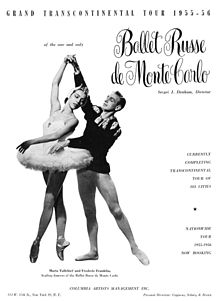 After years of training and making connections with those in the field, Tallchief joined the Ballet Russe de Monte Carlo, a leading touring company that was based out of New York City. The company rose to prominence after the outbreak of Work War II as a means of distracting others from the destruction occurring overseas. Throughout the next five years, Tallchief was quickly able to make a name for herself as her performances attracted copious amounts of attention from audiences and professionals alike.
Her Own Style
Critics were impressed by Tallchief's gracious movements and ability to seamlessly glide along the stage as if she was floating in the air. Her flirty yet ferocious performance in Balanchine-choreographed works like Le Bourgeois Gentilhomme and Le Baiser de la fee allowed for impressionable dancers to take note of the ways in which speed and structure create a harmonious relationship that turns heads and keeps audiences on their toes. While working alongside Balanchine and utilizing his choreography, Tallchief was given permission to create her own style and influence into the works entitled Danses concertantes and Night Shadow.
After years of dedication and hard work with the Ballet Russe, Tallchief went on to appear as a guest artist with the Paris Opera Ballet until she joined the New York City Ballet where her career would continue to prosper.
A More Dramatic Turn
Tallchief spent 18 years with the company and became the star of almost every show she was featured in. She was the company's prima ballerina in 1954-1955. During her time with the group, she achieved critical acclaim for her performances in Orpheus, Symphony, Allegro brilliant and Gounod Symphony. In addition to these roles, she also rose to prominence for her stylistic interpretations of the roles in Swan Lake and the Nutcracker. Taking her passion and profession to the next level, she transitioned from her usually ballet technique to take on more dramatic roles with the American Ballet Theatre.
With years of professional performance under her belt, Tallchief not only made a name for herself but allowed for other following in her footsteps to see the new features that could be integrated into the world of ballet.
Her Legacy
In 1965, Tallchief retired from the performance stage and began pursuing a new profession as a teacher in Chicago. During her time here, she founded the ballet school of the Lyric Opera while also serving as an artistic director of the Chicago City Ballet. Due to her investment into the world of arts and the tremendous amount of praise from professionals and widespread audiences, Tallchief was inducted into the National Women's Hall of Fame along with receiving a Kennedy Center Honor. Tallchief dedicated her life to the art of dance and made it her mission to pave the way for other young female dancers to embrace their femininity while taking risks that change the traditional narrative of ballet.
______________________________________________
Do you know a spectacular dancer that we should showcase?
Email social@starquestdance.com the dancer's name and why you think they should be featured!
________________________________________________________
Casey Eggers is a writer for StarQuest. She loves coffee, music, and running long distance.