Many decisions are made daily at StarQuest. However, there is one person that all decisions must be run through first, our Chief Production Officer, Caitlyn Pickering. Let's check-in with Caitlyn and learn more about what she does!
What does a Chief Production Officer Do?
This is a difficult question to answer! The short answer is a Chief Production Officer needs to oversee all aspects of the production—the show, competition, staff, equipment, trucking, studios, dancers, venues, etc.  I spend most of my time mentoring the staff (office, road warriors, managers, judges, etc.). I spend my days meeting with the various departments in order to instill best practices, avoid any problems in the foreseeable future, better the experience for the studios, and make sure my staff is constantly growing and learning. Most importantly, I strive to make work FUN for my teams!
Why is your position so important?
The most important part of the CPO's job is looking 12 steps ahead of your team and making sure nothing is missed. I must keep learning/growing so that I can lead all my staff with a clear vision to success. If I drop the ball it affects many different moving parts. This position gives me the flexibility to pollenate in every department at StarQuest, so that I can see the big picture. Ultimately the goal is to build relationships with the studios, get feedback, and make the StarQuest Experience the best it can be!
What do you love about working for StarQuest?
Everything! Specifically, I love…
The people I get to work with! I have made some of my best friends here and continue to make new friends every year. The dynamic between the staff is so unique, you can bond in such a short amount of time!
The opportunity for growth! I was hired as a seasonal Company Manager and 10 years later, I am here for the long haul. This is not a career I could have seen for myself, because it is so unique, but I am so happy that I found it. Just when I reach a new leadership lid, there is always room to grow within StarQuest. And I try to create this opportunity for growth amongst my teams as well. I want everyone to be the best they can be and grow to levels they didn't think existed. It's ultimately up to the person to take the leap, but I want to give everyone the tools they need to do it seamlessly. I love turning learning into games and making it fun!
The on-site experience! There is nothing better than going on site to meet the studios and dancers. It really makes me say, "This is why I am here." The stories you hear, the people you meet, and the growth you see in the kids makes everything worth it!
How does your job affect a dancer's experience on-site at one of our competitions?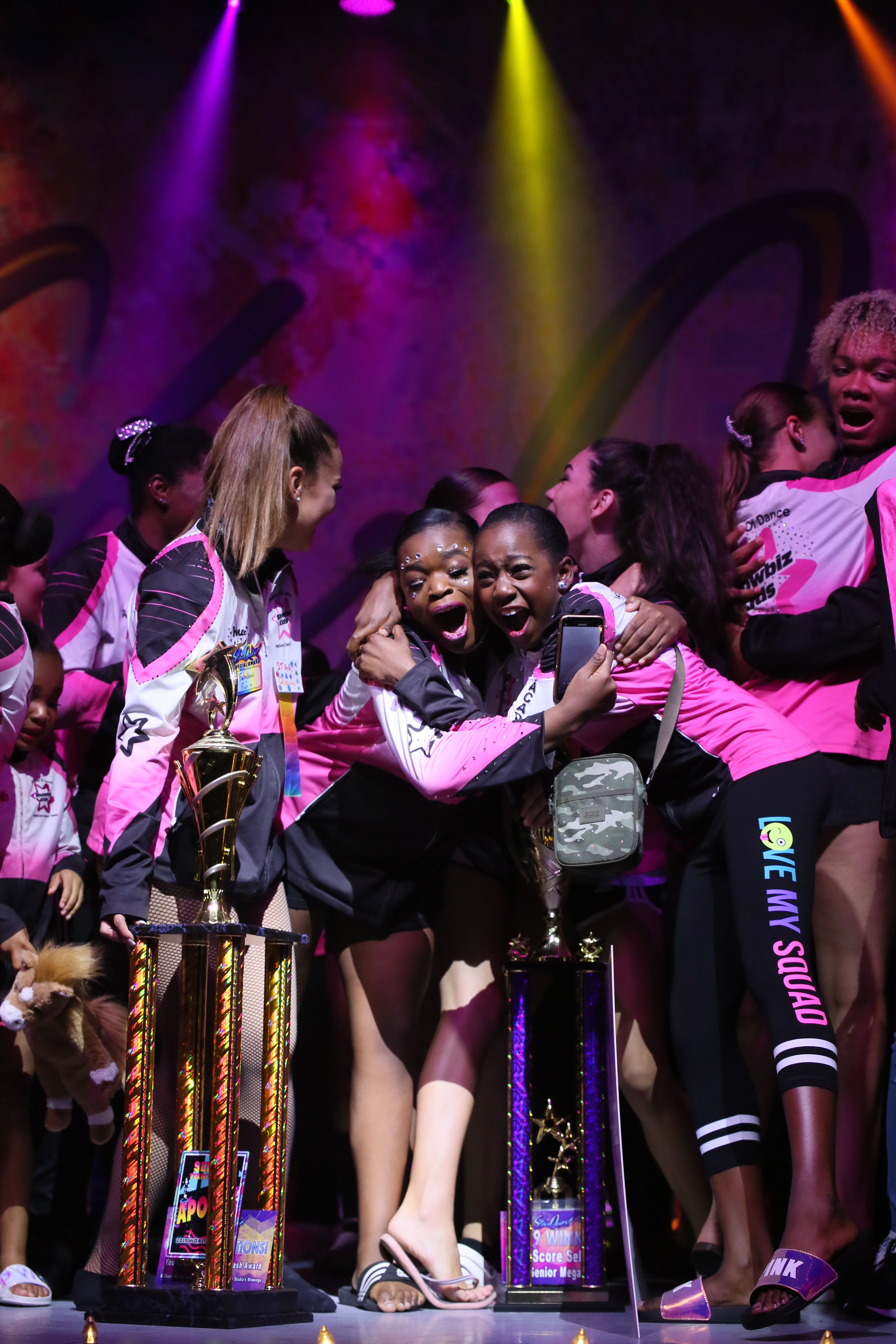 In so many ways! Every decision my team and I make affects the experience right down to how they check-in, which judges they have that weekend, which staff members are there, which equipment is there, how the staff/judges were trained, how many entries are there, etc. The goal is to remove all stressful obstacles so they can walk onstage and perform their best. I have no control over how they perform on stage, but I can make sure they have the best staff and experience possible before they walk out.
What do you wish the dancers and studios knew about your position?
I would love for them to know that my job exists as another tool to ensure they have a seamless show! I want to remove stress and do my best to make sure they have a better experience all around than they could have imagined. I try to do this by instilling best practices with every department and making sure they ALWAYS think about the studios, dancers, teachers, and parents first.
What is your favorite song to dance to?
"Rock Lobster" by the B52s.
________________________________________________________
Are you interested in working at StarQuest?
If you or someone you know is interested in applying, please email jobs@starquestdance.com for access to our job descriptions.
________________________________________________________
Elizabeth Radabaugh is the StarQuest Social Media Production Assistant. She loves everything Disney and delicious.