We love watching our dancers grow with us both while competing and in their career. Nick Silverio took his dancing skills from competing with us when he was younger and utilized them on the other side of the stage, behind the judges table. Nick has grown to be a great role model for any young dancer.
A Great Choice
Nick grew up in Shrewsbury, MA and danced with the Elite Academy Of Dance. He told 34st.com that he had to make a hard decision just at the age of 3, to either study gymnastics and ballet. Luckily for us, he chose the art of dance. StarQuest loved watching him take the stage and capture the audience year after year. In 2009, just ten years ago, Nick won the Elite 8 Teen Mr. StarQuest at our Northampton/Chicopee, MA event. Who knew just a few years later, he would be awarding that honor to other young men!
A Passion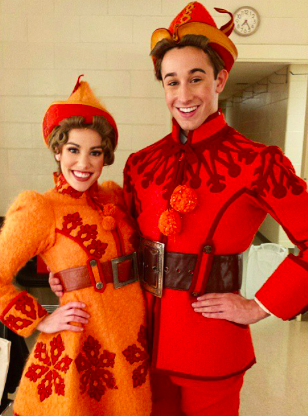 Nick had a passion that couldn't be denied. After high school, he enrolled in the University Of Pennsylvania's Wharton School and started dancing with the Arts House Dance Company. While studying to achieve his B.S. in Econ with a concentration in Commercial Dance Management, Nick didn't slow down his professional achievements. During his freshman year of school, Nick signed a contract with Clear Talent Group and decided to spend a year in New York auditioning before heading back to school. The choice definitely paid off. Nick landed a part as a backup dancer on America's Got Talent as well as a role in the National Tour of Elf. He even had the chance to play in the production of Elf at Madison Square Garden!
Double-Duty
Nick returned to school after his year off but did not slow down. He appeared on So You Think You Can Dancetwice, once in 2014 and once in 2015. He was hired as a dancer for Saturday Night Liveboth in 2017 and 2018. Nick also played Clo-Clo in La Cage Aux Follesin 2015 at Goodspeed. One summer, he even had the amazing opportunity to work on the pre-production choreography for Broadway's new musicalBeetlejuice! Nick's ability to juggle all of these responsibilities on top of a full college workload shows his dedication to his art.
Since graduating from college, Nick has continued to work steadily in the industry. He recently appeared as Bitelle in a production of La Cage Aux Folles at the Pioneer Theater. In 2017, Nick joined the StarQuest team as a judge. We love watching Nick pass on his knowledge to young competitors every year. We are so excited to see what else Nick has in store! To follow Nick's story, follow him on IG @nicksilverioo or check-out his website at https://www.nicksilverio.com.
________________________________________________________
Do you know a previous StarQuest dancer that has gone on to do amazing things that we should feature?
Email wow@starquestdance.comthe dancer's name and why they should be featured!
________________________________________________________
Elizabeth Radabaugh is the StarQuest Social Media Production Assistant. She loves everything Disney and delicious.