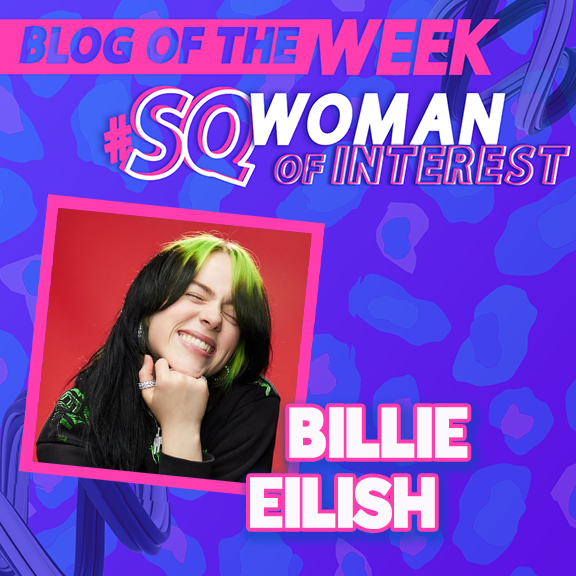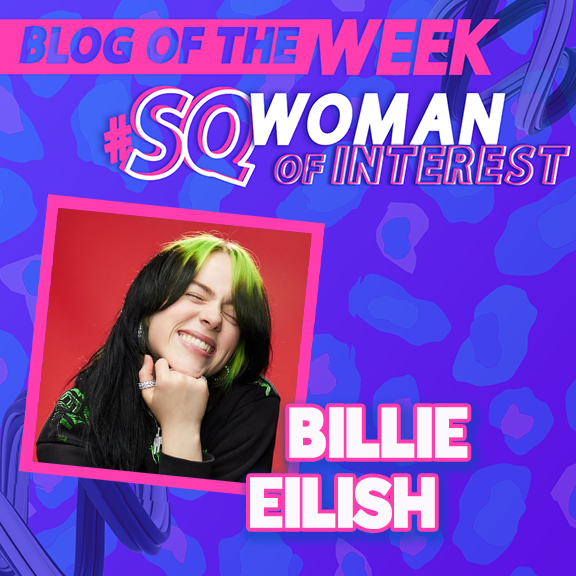 This week's #WomanOfInterest won the title of "Teen Phenom" and "Pop Music's New Hope". At only 16 years old, Billie Eilish has over 132 million streams on Spotify. However, Eilish almost missed her shot at the spotlight. If not for the encouragement from her dance instructor, Eilish would have never pursued a career in singing or song-writing!
Surrounded By Art
Born on December 18, 2001 in Los Angeles, Eilish grew up surrounded by a family of actors and musicians. She learned the importance of creativity and expression of art during her homeschooling. At 4 years old, Eilish wrote her first song about falling into a black hole, crediting her wild imagination to her parents and musician brother. Four years later, Eilish joined the Los Angeles Children's Chorus where her talent skyrocketed. She quickly began writing, performing, and producing her own songs with her brother Finneas O'Connell. During this time, Eilish practiced dancing and horseback riding outside of homeschool and song-writing.
Training in the style of contemporary, lyrical and hip-hop, her dance instructor was impressed by her talent but wished to unlock it further by incorporating her songwriting talent into her dancing. The dance instructor encouraged Eilish to submit a song for class, to which Eilish and O'Connel created "Ocean Eyes". The song was based around contemporary and lyrical dance, with ballad lyrics laced with comparisons of love to naturalistic scenes. The pair posted the song to Soundcloud in order to send the link to Eilish's dance teacher. Eilish fell  asleep that night a 13-year-old dance student and woke up the next morning a complete superstar.
Musical Genius
Thousands of streams later, Eilish found herself meeting with a variety of record labels. Soon enough, she signed with Interscope Records. "Ocean Eyes" was re-released worldwide and received positive critic reviews along with a large amount of remixes that were open to just as much positivity as the original track.
Following the success of the single, Eilish released another song produced and co-written by her brother titled "Bellyache". The track became an essential piece to defining her story-telling, songwriting style. The single reached just as much success as "Ocean Eyes" with many complementing Eilish on her advanced style of lyricism for a 15-year-old girl. The song set the tone for her debut album, "Don't Smile At Me". Earmilk says her album is a "sophisticated debut for a remarkable woman that will solidify Eilish as a major player in the pop industry." The album serves as a platform for Eilish's storytelling. It also reflects themes that are prominent to adolescence and the struggles teenagers must face as they grow up in a society surrounded by the pressure to be perfect.
Mixing Dance With Her Music
Though Eilish reflects her struggles and story within her music, she also incorporates her passion for dance into her journey toward pop fame. Eilish performs in her music videos, but also records Dance Performance Videos for her songs. Eilish allows the world to see her passion for dance in the videos as she physically embodies the lyrics she wrote. Her video for "Ocean Eyes" has over 14 million views on YouTube! Unfortunately, due to an injury Eilish attained while training with senior dancers, she has put her passion for dance on hold and is focusing more on her music.
Eilish does not shy away from crediting dance to her success in the music industry. She states, "If you can't dance to a song, it is not a song". Using this motivation and passion, Eilish continues to tour across the country and release singles through Interscope Records. Eilish is a prominent figure for those in the music and dance industries as she continues to showcase her talents. She is an inspiration for young females wishing to emerge in the talent industry of their choice.
________________________________________________________
Do you know a wonderful woman that we should feature?
Send the dancer's name to wow@starquestdance.com and why you think they should be showcased!
________________________________________________________
Casey Eggers is a writer for StarQuest. She loves coffee, music, and running long distance.