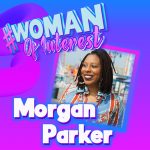 Our #WomanOfInterest not only has a way for words but uses them to empower young black women across the country. Morgan Parker's poetry and literature empower females to break through the glass ceiling.
West Coast to East Coast
Morgan Parker spent her childhood in Southern California with a firefighter as a father and an employee of San Bernardino Country as a mother. After completing high school, Parker moved to New York City to pursue her passion and career in writing. She received her Bachelors in Anthropology and Creative Writing from Columbia University. She then continued on to receive her MFA in Poetry from NYU. Parker is a well-established poet and editor in today's literary world, having countless publications that inspire the young minds. She is the recipient of a 2017 National Endowment for the Arts Literature Fellowship, winner of a 2018 Pushcart Prize, and a Cave Canem graduate fellow.
There Are More Beautiful Things Than Beyonce
Parker's most well-known work is her poetry collection titled There Are More Beautiful Things Than Beyonce. This collection was named the "TIME Magazine Paperback of 2017" as well as one of Oprah Magazine's "Ten Best Books of 2017". The collection explores the complexities of black American womanhood in an age of non-indictments and déjà vu, and a time of war over bodies and power.
Editor Extraordinaire
Parker is currently an editor at Little A and Day One, Amazon.com's book publishing unit. However, she set out to do more than just edit books. She sometimes teaches creative writing at Columbia University. She is the creator and host of Reparations, Live!, an event that explores the history of America and how we can improve our future. Parker also co-curates the Poets With Attitude reading series with Tommy Pico, and is a member of The Other Black Girl
Collective with poet and performer Angel Nafis. Parker is an influencer founded in the art of literature who uses different mediums to reach out and open the eyes of the people through her literary mind and work.
The Other Black Girl Collective
Morgan Parker and Angel Nafis have formed a Brooklyn-based black feminist poetry duo. They aim to celebrate black female expression and sisterhood, honoring and highlighting the multiplicity of the black female experience, and pushing against tropes and stereotypes that smother and limit black females. They are creating a new Black Girl mythology that is full of energy, brutal honesty, dark humor, anger, and pride- one centered around possibility and freedom. Learn more about this empowering duo here: http://www.otherblackgirl.com/about.
Parker has many projects coming up. Her third poetry collection titled Magical Negro is coming out in February 2019. Her debut young adult novel Who Put This Song On? is coming to stores in late 2019. She also has a debut book of non-fiction releasing in 2022. Looking for a new read for the road? Grab one of our #WomanofInterest, Morgan Parker's poetry collections!
________________________________________________________
Do you know a wonderful woman that we should feature?
Send the dancer's name to wow@starquestdance.com and why you think they should be showcased!
________________________________________________________
Juna Shai is a writer for StarQuest. She's from Tokyo, and loves coffee, coffee, theatre, and coffee!