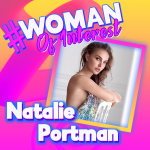 Dancing has the ability to open doors for you and take you places you never dreamed of. This week's #WomanOfInterest is no stranger to the dance world or the places it can lead you. Natalie Portman might be a successful actress, but that's not all that she does. She is a wife, a mother, daughter, a producer, designer, and most of all an advocate for change!
Early Life
Natalie Portman was born on June 9, 1981 in Jerusalem. Her original given name is Neta-Lee, which is a Hebrew name. At the tender age of three she moved to America with her parents where her father received his medical training. The family first settled in Washington D.C., then moved to Connecticut and finally settled in Long Island in 1990. While living on Long Island, she learned Hebrew and fell in love with the art of dance. She attended American Dance Workshop and USDAN Center for the Creative and Performing Arts, studying ballet and modern dance. She graduated from Harvard University in 2003 with a Bachelor's Degree in psychology. In the spring of 2004, she took graduate courses at Hebrew University of Jerusalem. She co-authored two research papers that were published in scientific journals when she was in high school and in college. She also has a fond interest in foreign language and has studied French, Arabic, Japanese, and German.
Career
Natalie was a very serious and determined young person. As a child she knew what she wanted and went after it. When Revlon asked her to be a child model at the age of 10, she turned it down because she was focused on her dream of becoming an actress. She went on to act in numerous films. 1997 was a big year for her. She played Anne Frank on Broadway in The Diary of Anne Frank and was cast as Padmé Amidala in the Star Wars prequel trilogy. During the summer break off from school, she filmed Star Wars: Episode II – Attack of the Clones in Sydney and London. In 2010, she played a ballerina in Black Swan. She spent six to eight hours a day for six months training with a professional ballerina to prepare for this role. The hard work paid off because she won a Golden Globe Award and an Academy Award for Best Actress, and a Screen Actors Guild Award for Outstanding Performance by a Female Actor in a Leading Role.
The Present
Natalie is not only a talent actress but she has produced a movie as well. In addition, she uses her status to stand up for social and political causes, being a strong advocate for animal rights. Since age eight, she has been a vegetarian, and she became vegan in 2009. Starting in 2007, she launched her own brand of vegan footwear. She also supports antipoverty activities and became an ambassador for Free the Children in 2011. Natalie is a wife and a mother. She married Benjamin Millepied, a ballet dancer, and together they have two children, Aleph and Amalia. Because Natalie Portman has been able to navigate her way through celebrity status while still maintaining her core beliefs and values, she is an excellent #WomanOfInterest.
______________________________________________________
Do you know a wonderful woman that we should feature?
Send the dancer's name to wow@starquestdance.com and why you think they should be showcased!
_________________________________________________
Phaedra McDowell is a writer for StarQuest. She loves to celebrate others, serve her community through the arts, and encourage young people to dream without limits.