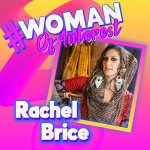 Known for her influence on the belly dancing community with her incorporation of Tribal Fusion Style, Rachel Brice has solidified her status as a contemporary performer while opening the world's eyes to the art of belly dance. An owner of her own studio, Brice is dedicated to helping others find solace on stage while creating exotic and encouraging performances.
A Fascination Of The Art
During Brice's youth, she became fascinated by the art of dance when her eyes were opened up to the empowerment showcased in the form of belly dancing. As a child, she watched Hahbi'Ru and became enamored by the cultural aspects of the form of dance. The performance showcased a strong sense of charisma along with cultural ideals like antique jewelry, facial tattoos, and textiles. This one performance evoked a passion in Brice that she was determined to make a living out of. With her sense of beauty and determination altered by the dance, Brice decided to study the art of dance and began taking classes in American Cabaret immediately following the performance.
Tribal Roots
While homing in on her craft and creating her own unique style in elementary and high school, Brice continued to study up on the tribal roots of belly dance. Her interest in dance continued in college as she studied the art at San Francisco State University. While studying varying styles like modern dance, African Haitian, Flamenco and American Tribal Style Belly Dance, Brice was able to explore her interests but found her heart still resided with belly dance. The other influencing styles contributed to her own creation of an artistic form of belly dance, specifically the form of Mardi Love which wound up becoming a strong aesthetic inspiration for her own unique style.
Going On Tour
In the early 2000s while continuing her studies, Brice joined Jill Parker's Ultra Gypsy group which was the first Tribal Fusion dance group. Her work with the group exposed her to the art of performing alongside others who had found inspiration through cultural influence and a mixture of different styles to create something new. After performing with the group for a year, Brice was discovered by Miles Copeland who brought her on to tour with his dance company, Bellydance Superstars. At this point, Brice became completely invested into the art and worked alongside experts in the style who contributed to her own creative influence on the style. Brice remained on the tour for five years and her performance contributed to a spike in global interest in the Americanized style of belly dance, specifically her San Franciscan influenced style. Her time with the group not only led to Brice achieving critical acclaim and global success, but it solidified her status as a professional dancer and many young dancers began to idolize her and her interesting style.
A Female Inspiration
Following her success with the Belly Dance Superstars, Brice made it her mission to encourage other young female dancers to follow in her footsteps and explore their own unique style and femininity through a style that promotes empowerment and emotional awareness. She first began impacting others through her features on Bellydance Superstars DVDs that many dancers used as an instructional video to learn the creative movements that Brice implemented in her own performance. Furthermore, Brice made many television appearances that exposed uninformed audiences to the incredible talent that surrounded the dance and more specifically the American Tribal Fusion community. In June of 2011, Brice took her passion to encourage and empower others to a new level as she opened her own dance studio in Portland, Oregon called Studio Datura. Her studio hosts regular dance classes in addition to workshops that detail her own, inventive 8 Elements Approach to Belly Dancing. Along with this, Brice has released instructional videos that center on Yoga and Belly Dance. Her work with videos has led her to branch out from the typical training program as she began broadcasting her studio work online for those outside of the Portland area to gain insight into her instructional protocol.
Her Legacy
Today, Brice continues to train others in the art of Belly Dance while continuously working on improving her own style while embracing the femininity and cultural style of the art. Brice's passion lies in continuing to broaden the horizons for young dancers and those looking to become enriched by the background and unique adaptation of tribal dance.
________________________________________________________
Do you know a wonderful woman that we should feature?
Send the dancer's name to social@starquestdance.com and why you think they should be showcased!
________________________________________________________
Casey Eggers is a writer for StarQuest. She loves coffee, music, and running long distance.