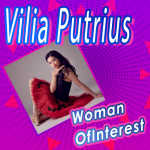 Our #WomanOfInterest has made a career any young ballerina would dream of. After dancing professionally for 21 years, Vilia Putrius made the hard choice to retire from the stage. However, she is definitely not retiring from dance.
Life Is A Circus
Vilia Putrius was born in Lithuania in 1977. Her parents worked in a traveling circus. "They were air gymnasts," she told Providence Journal, an act so unique her father invented the apparatus for it. "I loved it. I thought that was what I would do. But it's not an easy life, and my parents wanted something different for my older brother and me." They wanted Vilia to explore other passions, including dance. She started training at the Vilnius Ballet School.
When the circus stopped in Russia, dancers from the Perm Opera and Ballet Theatre came to teach a class at the circus. They noticed her raw talent and convinced her to take up ballet professionally and attend a more serious school.
Taking The Next Step
Vilia took the dancers' advice and enrolled at the National M.K. Ciurlionis School of Art in Lithuania. She thrived there. Not only did she star in many ballets, she also met her future husband, Mindaugas Bauzys, another successful dancer. After graduating from National M.K., she joined the Lithuanian National Opera and Ballet Theatre as a soloist.
She danced with them for 5 years. However, in 2001, after Mindaugas appeared as a guest dancer for them, the Ballet Arlington in Texas invited the couple to join their company as principal dancers. So, they packed up their lives and their 2-year-old daughter and moved to America. This was a big jump from Lithuania. However, they found a community amongst the dancers and learned English by watching television. "We're very happy we moved. It opened a lot of things to us."
Finding Their Home
In 2004, Mindaugas and Vilia moved to Boston and joined the Boston Ballet. Then, in 2006, they settled in Rhode Island at Festival Ballet Providence. Vilia danced as a leading dancer for Festival Ballet Providence for 11 seasons. She performed lead roles in major productions like The Sleeping Beauty, Swan Lake, The Nutcracker, Giselle, and many others.
Vilia retired from dancing at the end of the 2017 Season with her final performance being both the Stepmother AND Cinderella in Cinderella. This was truly a full-circle moment for her. Cinderella was the first production she ever performed in at the National M.K. Ciurlionis School of Art.
However, while she retired from the stage, she is nowhere near done with her career. In 2018, she took on the role of the new School Director at Festival Ballet. She moved from on-stage to behind the scenes in order to inspire a new generation of dancers. "For me, I think it will be interesting to see how all of this will feel from the other side," she told eastsidemonthly.com. "I won't be dancing on stage, but I will be working together with Mihailo Djuric, our Artistic Director, and I will be learning a lot, so I'm looking forward to that!" She also gets to work with her husband. He retired form the stage in 2016. Hoewver, he is currently the Ballet Master of the Company.
Beyond The Stage
Vilia's skills expand beyond the stage. She plays guitar and piano. Vilia also owns a small business called Arleo Wear. She creates both made-to-order and ready-to-wear custom knitted dance garments and accessories. Her passion and love of the world of dance inspires her students every day.
________________________________________________________
Do you know a wonderful woman that we should feature?
Send the dancer's name to wow@starquestdance.com and why you think they should be showcased!
________________________________________________________
Elizabeth Radabaugh is the StarQuest Social Media Production Assistant. She loves everything Disney and delicious.